Same Day Dental Appointments Available!
Restorative & Cosmetic Dentist in Spokane, WA
At 5 Mile Smiles, we understand that going to the dentist can be stressful. That is why our team of friendly and experienced dental professionals strive to make your time with us a comfortable and relaxing experience. Led by Dr. Jason Keefe, our team is known throughout Spokane and the surrounding area for providing only the highest quality of oral health care to patients. Our state-of-the-art dental practice combines innovative technologies with a gentle, compassionate staff in a warm and inviting atmosphere.
Whether you're in need of a dental exam, dental implant or Invisalign, rest assured that your smile and oral health are in good hands with 5 Mile Smiles.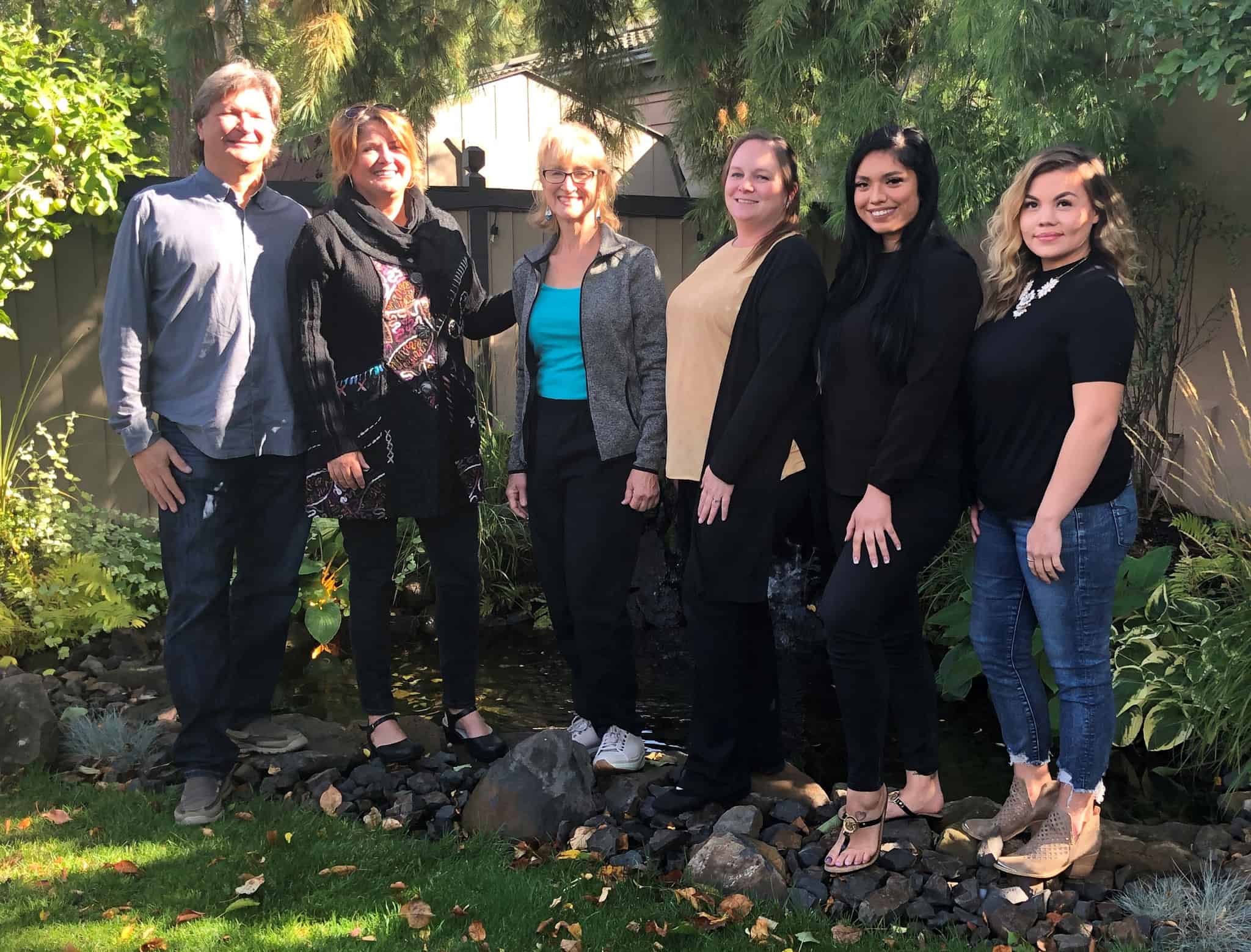 Meet Dr Jason Keefe
Dr. Jason Keefe is one of the best dentists in Spokane, Washington, having served the area for the past 25 years. He earned a Doctorate in Dental Surgery from the University of Washington School of Dentistry. Dr. Keefe has studied with a number of dental experts including Dr. Ed Frederickson and Dr. Gordon Christensen. Through this training, Dr. Keefe refined his techniques and established a commitment to using the latest dental technology such as 3D CBCT imaging, CEREC Dental Crowns, and WaveOne. This technology allows Dr. Keefe and the talented dental hygienists at 5 Mile Smiles to provide efficient, accurate diagnoses for all patients in formats that are easy to understand.
Featured Dentistry Services
From regular check-ups to nearly invisible Invisalign braces, Dr. Jason Keefe and the staff at 5 Mile Smiles will help you obtain and maintain a brighter and healthier smile. Continue reading to learn more about the dental services we offer patients in Spokane and the surrounding area.
General Dentistry: Maintaining and Preserving a Healthy Mouth
5 Mile Smiles is proud to help every member of your family maintain beautiful, attractive teeth. At your biannual dental cleaning, we use special tools to gently and effectively remove plaque and tartar from your mouth that normal brushing and flossing does not get rid of.
This appointment also includes an examination to check for signs of gum disease and cavities. Our Spokane office is complete with the latest technology, which allows us to use X-rays, intraoral cameras, digital imaging and other advanced diagnostic tools to uncover any potential dental issues. Should your examination uncover more significant dental problems, Dr. Keefe has the expertise to address those issues in a prompt manner.
Emergency Dentistry: Immediate Solutions for Unexpected Problems
When a dental emergency arises, addressing the problem quickly is critical — not only to alleviate discomfort, but to preserve the ongoing health of your mouth. That is why Dr. Keefe and his staff are committed to scheduling patients facing an emergency as quickly as possible. If a traumatic injury has compromised the condition of your mouth, Dr. Keefe will work to resolve the problem carefully and quickly.
Dr. Keefe began his dental career in the US Air Force, which prepared him well for managing crisis situations. Whether you have a serious toothache, a soft tissue injury (i.e. wounded lips, cheeks, tongue or gums) or a knocked out tooth, Dr. Keefe will keep you calm while resolving the problems at hand.
Restorative Dentistry: Repair or Rehabilitate Broken or Damaged Teeth
If a dental issue has occurred, our expert team can promptly address it with a restorative dental treatment. This includes dental crowns, dental implants, dental bridges and periodontal treatment. Not only can these treatments correct serious dental health problems, they can also strengthen your smile for optimal function. Always at the forefront of technology, Dr. Keefe is trained and experienced in using the innovative CEREC system, which allows him to create and place beautiful dental restorations in a single appointment.
Cosmetic Dentistry: Restore Radiance and Confidence to Your Smile
Not all people with healthy teeth are thrilled with their smiles. As a cosmetic dentist, Dr. Keefe meets with many patients who want to cosmetically enhance their teeth to achieve a nicer-looking smile. 5 Mile Smiles offers several cosmetic procedures that can significantly upgrade the appearance of your mouth.
Teeth whitening, which involves bleaching your teeth up to eight shades whiter, is the most popular procedure. Porcelain veneers, dental bonding laser gum contouring are other common treatments to boost the appearance of your teeth and gums. Many patients come to Dr. Keefe for a "smile makeover," which is a customizable procedure that combines multiple treatments to create the kind of amazing smile you have always dreamed of.
Zoom Teeth Whitening
We are pleased to announce we are now offering Philips Zoom! teeth whitening. We want to give every single patient a smile they love! If you have stained or yellow teeth, 5 Mile Smiles is proud to offer Philips Zoom! teeth whitening. With Philips Zoom!, your teeth can become several shades whiter in as little as 30 minutes!
Dental Implants: Natural-Looking Replacement Teeth
Having trained extensively in implant surgery, Dr. Keefe is recognized as one the foremost experts on dental implants in Spokane, Washington. With his perfected technique, he can restore your smile into something both functional and aesthetically pleasing, all while minimizing discomfort throughout the procedure.
Dr. Keefe uses implant dentistry to replace one or more missing teeth in your mouth. The surgery involves permanently inserting a post into the jawbone. At a subsequent appointment, Dr. Keefe will attach an artificial tooth that matches the rest of your teeth to that post. In some cases, he may suggest implants as a method for supporting a dental bridge or implant-supported dentures
Orthodontics: Straighten and Align Your Teeth Your Way
5 Mile Smiles believes in offering our patients choices when it comes to straightening crowded or misaligned teeth. We offer both traditional braces and ceramic braces, the latter of which blend in more with teeth than metal braces. We also offer Invisalign, which uses a set of clear aligner trays to straighten teeth as discreetly as possible. We'll explain the benefits of each system to you and work with you to select the best option for your unique case.
Call our Spokane, WA office today to make your appointment!
Contact Us Today!