Root Canal (Endodontics) in Spokane, WA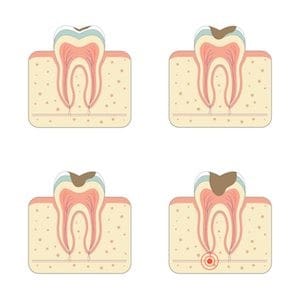 Do you have a broken tooth, swollen gums, or toothaches that keep you up at night? Delaying your dental care can lead to long-term issues and severe pain. Visit 5 Mile Smiles today to learn about the latest treatment options from our highly rated Spokane dentist, Dr. Jason Keefe.
Detecting Dental Issues Early
Often times, you won't know that there is anything wrong with your tooth until it begins to hurt. Dr. Keefe will schedule an emergency dental appointment and treat your tooth problems on the same day.
But what if you could detect the need for a root canal before infection sets in? 5 Mile Smiles uses state-of-the-art CBCT technology: digital scanning equipment that shows a complete view of your teeth and roots. The images can tell us if a tooth is cracking or if there is an infected root in need of treatment. Early infection detection is key to preventing pain and discomfort from a bad tooth.
What Is A Root Canal?
A root canal is used to treat broken, decayed, infected, or abscessed teeth. Instead of extracting the tooth, our dentist will use state-of-the-art WaveOne technology to remove any decay or infection and clean the nerve chamber inside of the roots. A natural, thermoplastic resin called gutta-percha is used to fill and seal off the tooth.
Same-Day Root Canals With Dental Crowns
Traditionally, a dentist had to take an impression of your teeth and send it off to a lab to have a crown made. You would be sent home from root canal therapy with a temporary crown to fit over the damaged tooth. Two weeks later, you would have to return to have the new crown fitted and bonded in place. At 5 Mile Smiles, we use state-of-the-art CEREC technology to create your custom fitted, porcelain crown that matches your natural teeth. The entire procedure including the root canal takes about two hours from start to finish, preserving your tooth and keeping your smile beautiful! You may even find that it saves you money as it requires taking less time off from work!
Why Choose Dr. Keefe For Your Root Canal?
Dr. Jason Keefe has been performing root canals for the past 25 years. While root canals have earned a bad reputation as a painful procedure, our experienced dental team takes steps to ensure your comfort by using the latest technology, anesthetic, and sedation techniques.
Many dentists will use nitrous oxide, or laughing gas, to relax their patients for root canals or other procedures. The problem is that once the nitrous wears off, you may experience anxiety — the opposite of comfort and relaxation! The sedative we use lets you safely relax through your root canal. You likely won't even remember it happening!
Root Canal Frequently Asked Questions
Does a root canal hurt?
Thanks to Dr. Keefe's experience and training, root canals do not hurt and are not scary. In fact, you will find that a root canal actually gives you much-needed relief from the pain and discomfort of a tooth infection!
Prior to a root canal, the treatment site is completely numbed so you will not feel anything. You can also take a sedative medication to help you relax and feel comfortable during the procedure.
What happens after root canal treatment? Do I have to change my habits?
After a root canal, Dr. Keefe will provide detailed aftercare instructions for your restored tooth. He will also explain how to manage any pain or tenderness in the treated area. You should follow these instructions very carefully.
Keeping your teeth and mouth clean and healthy are essential to avoiding another infection. You must brush and floss daily and should schedule dental cleanings and exams at least twice a year. Exams and cleanings allow our hygienists to thoroughly clean your teeth and Dr. Keefe to check your restored and natural teeth for potential problems.
How long does a root canal take?
At our practice, root canals are fast, efficient and predictable with the WaveOne system. The technology allows us to cut down on the amount of time it takes to complete a root canal and also make the procedure as comfortable for you as possible.
Treating the infection and restoring the tooth with a custom crown requires only two hours. The entire process can be completed in a single appointment, saving you valuable time.
When is tooth extraction a better alternative?
Although Dr. Keefe does everything he can to save the natural tooth whenever possible, there are some cases where a tooth is too compromised to stay in the mouth. In those scenarios, tooth extraction is the more sensible alternative. The tooth can be replaced with a dental bridge or a dental implant.
Are there financing options for root canal treatment?
5 Mile Smiles accepts a variety of payment forms and is contracted with a number of dental insurance companies. We also accept financing through CareCredit to break the cost into smaller monthly payments.
What are the symptoms that indicate I might need a root canal?
Signs that suggest you may have an infected tooth and need root canal therapy include the following:
Severe pain while chewing
Lingering sensitivity to hot or cold foods or beverages
Swollen and painful gums
Discoloration or darkening of the tooth
It is important not to put off seeing a dentist to evaluate your affected tooth or teeth. Immediate intervention can alleviate significant pain and likely save your tooth from extraction. On the other hand, if you avoid seeing a dentist for an infected tooth, the infection can worsen and put your tooth at risk of needing to be extracted.
Can Dr. Keefe treat my fractured tooth?
Yes, Dr. Keefe has special expertise in treating and saving fractured and injured teeth. The exact treatment solution depends on the type, location and extent of the fracture or injury. But in general, the sooner the fractured tooth is evaluated by Dr. Keefe, the better the chances of repairing it as quickly, comfortably and minimally invasively as possible.
If you have a bad tooth and think you might need a root canal, contact 5 Mile Smiles today to schedule an appointment.
Contact Us Today!
"Awesome dentist and staff. Very friendly and caring!"
– Lisa Legore
"Awesome team and customer service! I have really bad anxiety when it comes to the dentist and they walked me through everything and kept me rolling through! Highly recommend!"
– Mo McMahon