Cosmetic Dentistry in Spokane, WA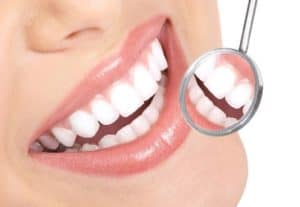 Nothing exudes confidence like a beautiful and radiant smile. If a crack, chip, stain or other imperfection is holding you back from smiling, laughing or simply feeling your best, cosmetic dentistry with our Spokane dentistry experts can help. We offer an array of cosmetic dental procedures to improve the appearance of the teeth and gums. Whether you are in need of one treatment or several, you will be pleased with how much your smile — and confidence — improves with cosmetic dentistry!
Having treated thousands of patients, Dr. Jason Keefe understands that no two patients are alike. He believes in using a patient-focused approach to design a treatment plan that addresses each patient's unique needs and goals. Using high-quality dental materials and cutting-edge technology (including digital imaging so you can "preview" your results), Dr. Keefe can help you achieve your cosmetic dental goals so you can enjoy all of the benefits that come with having a gorgeous and confident smile.
Continue reading to learn more about the cosmetic dentistry treatments offered by 5 Mile Smiles.
Porcelain Veneers
Veneers are small, thin shells or porcelain that are slipped over the surface of teeth to mask chips, cracks, discoloration, stains, spaces and other minor cosmetic flaws. Veneers are shaped and colored to match the surrounding teeth for a natural-looking and seamless smile.
Teeth Whitening
Teeth whitening is the most popular cosmetic dental procedure performed today, and for good reason. The procedure uses strong and effective bleaching products to lift stains and whiten teeth up to eight shades. 5 Mile Smiles offers professional chairside whitening for quick, dazzling results, as well as take-home whitening kits that you can use in the convenience of your own home or on the go.
Laser Gum Contouring
Laser gum contouring reshapes and/or resizes the gum line to improve the teeth-to-gum ratio. The procedure is an excellent option for individuals with excessive gum tissue, also known as a "gummy smile." Following laser gum contouring, the teeth appear longer and the smile looks more harmonious and balanced.
Dental Bonding
Dental bonding is a quick and simple procedure that uses composite resin material to address an array of aesthetic flaws. With dental bonding, you can hide small chips, cracks and spaces, transform dull or yellow teeth to whiter and more radiant ones, or improve the size and shape of unevenly shaped teeth.
Invisalign
Invisalign is the clear alternative to traditional metal braces. Using a series of transparent, removable aligners, Invisalign gradually shifts teeth into a straighter and more aligned position. This modern orthodontic system is designed to treat tooth misalignment and spacing issues. Patients love Invisalign aligners because of their discreet design and convenience.
Smile Makeover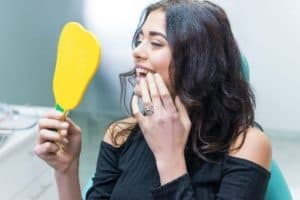 Perhaps you feel you can benefit from more than one cosmetic dental procedure. Smile makeover is a highly customized multi-step treatment usually performed in phases involving several appointments. Because smile makeover addresses several cosmetic dental flaws, it has the ability to dramatically improve the appearance of the teeth and gums.
Cosmetic Dentistry FAQs
How long will my cosmetic dentistry results last?
The duration of your results depends on which treatments you choose to undergo. Teeth whitening lasts about one year before another bleaching session is recommended. Dental bonding typically lasts three to five years. Dental crowns last seven to 10 years on average. With proper care, porcelain veneers last one or two decades before replacement is necessary. The results from laser gum contouring should last the rest of your life. Dr. Keefe will discuss these details during a consultation so that you know what to expect and the types of steps you can take to extend the duration of your cosmetic results.
Will my teeth still look natural with a cosmetic dentistry procedure?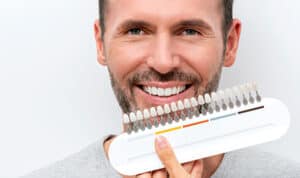 When it comes to cosmetic treatments, Dr. Keefe's goal is to make your smile look beautiful without appearing artificial. If you are concerned that having blindingly white teeth will not appear natural, you may request a shade of white that feels right for you. Cosmetic treatments meant to improve the appearance of one or two teeth are done with your other teeth in mind so that they look identical and create a seamless smile.
Are porcelain veneers worthwhile?
Porcelain veneers offer the most dramatic transformation of any cosmetic treatment. They are your best solution for customizing your ideal smile since you can choose shields with a precise shade, shape, and size that can cover up any existing aesthetic imperfections. The downsides to porcelain veneers are that they are more expensive than other cosmetic treatments and that they make permanent changes to your teeth. Dr. Keefe can discuss all the relevant factors during a consultation so that you may make a decision that feels right for you.
Does insurance cover cosmetic dentistry costs?
Procedures that are purely cosmetic (like teeth whitening and dental bonding) are not typically covered by dental insurance plans. However, procedures that are both cosmetic and restorative by nature (such as dental crowns or Invisalign) may be covered — at least in part — by your insurance. The team at 5 Mile Smiles can help review your policy to see what benefits you are entitled to. We accept financing through CareCredit to help ensure that you can pay for your treatment. Specific prices depend on the treatment plan you decide on.
Can I have a cosmetic procedure if I have existing dental health issues?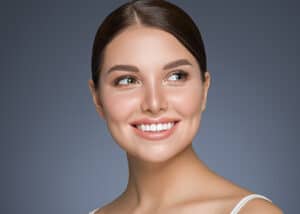 In most cases, Dr. Keefe suggests that you address existing dental problems first (or at least simultaneously) to improve the health of your mouth. While veneers and dental bonding can cover up aesthetic issues, they do nothing to improve the health of your teeth and may make it more difficult to treat later. Furthermore, if you have cavities that need fillings, those should be completed before you undergo teeth whitening.
Do cosmetic dentistry procedures require tooth extraction?
Whenever possible, Dr. Keefe strives to keep your natural teeth in your mouth — unless a tooth is too damaged or infected to survive. Accordingly, he does not believe that pulling teeth is necessary or worthwhile for cosmetic purposes. Fortunately, there are many ways to make your natural teeth look better without having to replace them altogether.
Learn More About Our Cosmetic Dentistry Services
The first step towards a radiant and gorgeous smile is to schedule a consultation with Dr. Keefe. Contact 5 Mile Smiles to learn more about cosmetic dentistry in Spokane by calling (509) 326-2621 today.
Contact Us Today!
"Absolutely the best! Great attitudes all around and atmosphere! Wendy has been amazing and always stayed by my side to put my dental anxiety to ease. Dr. Jason is quick and efficient is his work. Sarah and Jessica in the office are always so positive and happy! Thank you 5 mile smiles!!"
– Katie Immonen
"Wendy, the dental assistant, was very helpful. She spent the time educating me on what to look for after the procedure and the pros and cons of the next step. She took my anxiety into account without being condescending and helped to relax me."
– Karen Jeltsch