Invisalign in Spokane, WA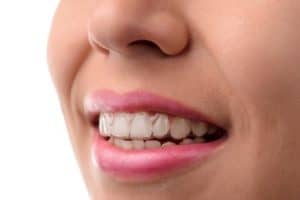 Do you wish there was a way to achieve a straight and beautiful smile without having to wear bulky metal braces? Thanks to advances in orthodontics, this is very possible. Invisalign is a modern orthodontic system that uses a series of clear, custom-made aligners to gradually shift teeth to a straighter position. Removable, comfortable and easy to use, Invisalign aligners are worn by thousands of patients each year.
Invisalign treatment with 5 Mile Smiles can help you straighten your teeth as discreetly as possible. Dr. Jason Keefe has over 15 years of experience treating patients in Spokane and the surrounding area with Invisalign. The trusted dentist has seen the power of Invisalign firsthand and can help you obtain a straight and even smile you will be proud to show off.
Benefits
Invisalign offers several benefits over traditional metal braces:
The aligners are removable so they won't interfere with eating, drinking or your everyday life
Easy cleaning. Just rinse the aligners with lukewarm water
Thanks to their clear design, no one will know that the aligners are in place!
Fast treatment. Average treatment with Invisalign takes one year while treatment with braces can last up to two years or more
Comfort. Invisalign is not painful. The custom-made aligners will fit snugly yet comfortably over your teeth
Are You a Candidate For Invisalign?
Invisalign is designed to treat problems related to the alignment, positioning and spacing of teeth. If you experience more severe orthodontic issues, Dr. Keefe may recommend a more extensive treatment such as braces. Before recommending Invisalign or another form of treatment, Dr. Keefe will meet with you to examine your mouth, evaluate your mouth and discuss your preferences.
You may be an ideal candidate for Invisalign if you have:
Gaps or spaces between teeth
Crowded teeth
Misaligned teeth
Overbite or underbite
Open bite
Cross bite
How Invisalign Process Works
Treatment with Invisalign involves wearing a series of aligners that will work to gradually shift your teeth into the desired position. The aligners are created using dental impressions of your mouth and other information our team will gather during the evaluation phase of treatment. Each pair of aligners will need to be worn for approximately two weeks. Every two weeks, the aligners will be swapped for a new set that will move your teeth to the next desired position. Although treatment is not painful, you may experience some slight pressure or sensitivity each time you wear a new set of aligners. This is normal and should go away after a few days. You will need to wear your Invisalign aligners for at least 20 to 22 hours a day to achieve optimal results.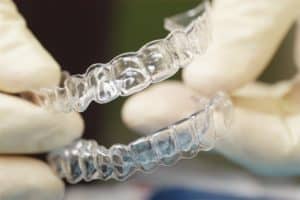 Treatment with Invisalign can take anywhere from several months to a year, depending on how much correction is needed. Most patients will need to wear 20 to 30 pairs of aligners. Dr. Keefe and the 5 Mile Smiles will meet with you regularly during treatment to provide you with each new set of aligners and to monitor your progress.
How Long Does Invisalign Treatment Last?
Treatment with Invisalign can take anywhere from several months to a year, depending on how much correction is needed. Most patients will need to wear 20 to 30 pairs of aligners. Dr. Keefe and the 5 Mile Smiles will meet with you regularly during treatment to provide you with each new set of aligners and to monitor your progress.
What is the Cost of Invisalign Clear Braces or SureSmile?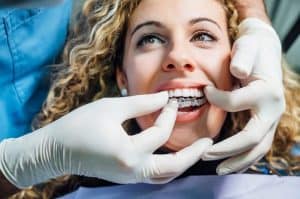 Patients with dental insurance may have a percentage of their Invisalign treatment covered. Insurance providers may cover a specific portion or have a set dollar amount for clear aligners or traditional braces. Our Spokane office can help you determine benefits coverage, and you can understand more about your plan by contacting a representative. We accept most dental insurance plans.
The actual cost of Invisalign varies based on the type of Invisalign, length of orthodontic treatment and other circumstances. These clear aligners have a broad price range from $1,800 to $9,500, with Invisalign Teen having an average cost of $3,000. Invisalign Express straightens teeth with more mild misalignment concerns in a shorter timeframe, making it the most affordable option. 5 Mile Smiles offers a free Invisalign consultation so you can learn more about clear braces.
The average cost of SureSmile clear aligners is $4,000, but this price also depends on your unique needs and the expense may be as low as $2,000 for some patients and higher for others.
Many people who want to straighten their smile with invisible braces are interested in flexible payment options, and we recommend CareCredit, a healthcare financing company that helps patients pay health expenses not covered by their insurance.
Preparing for Clear Braces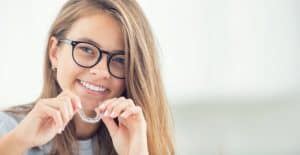 Our orthodontist will go over what to expect for your Invisalign or SureSmile treatment, but there are a few ways to prepare yourself for the first weeks of wearing clear aligners 20 to 22 hours a day. You may experience some initial discomfort when you insert the trays because they force your teeth into the desired position. Chewing exercises and over-the-counter pain relievers can make you more comfortable during this transition and when you switch to a new set of aligners.
Make a plan to ensure you wear your clear braces for the optimal 22 hours daily. That can involve scheduling your meals and snacks and carrying floss, a toothbrush and toothpaste so you can clean your teeth and reinsert the aligners immediately. Bring your Invisalign or SureSmile case to protect the aligners and prevent yourself from absentmindedly forgetting your Invisalign trays at a restaurant or work. Clean the trays regularly but do not use abrasive toothpaste as it can damage the material. Mobile apps are available to help you track how long you've worn your aligners and allow you to set reminders to switch to the next set.
Creating a routine during Invisalign or SureSmile treatment will help you stay on track with your orthodontic plan, and regular appointments at our Spokane office will monitor your progress and oral health.
How to Enhance Results
The best way to maximize Invisalign and SureSmile results is to wear the aligners as directed and always floss and brush your teeth before reinserting them. Following these basic instructions ensures your bite reaches the correct alignment and your teeth and gum tissues are healthy when you're finished. You may wish to hold on to your last set of aligners in case you lose your retainer and need to use the trays while you wait for a replacement.
At the end of your clear braces treatment, you may wish to enhance your results in other ways. Teeth whitening can brighten teeth by several shades, giving you a sparkling, straight smile. Please contact us for more information.
Invisalign FAQ
What are the clear aligners made of?
The Invisalign aligners are made of thermoplastic material, which is designed to look similar to clear, teeth-whitening trays that slip over teeth.
Are clear braces painful?
Treatment is not painful. However, you may feel some slight pressure for the first few days at the beginning of each new stage of treatment.
Do Invisalign aligners work with veneers, bridges and other dental restorations?
Invisalign aligners are fabricated to your unique specifications, so they can be worn over dental bridges, veneers and other dental restorations with no problem.
Is Invisalign suitable for children?
In certain cases, Invisalign can be used on children. Speak to our team to learn about Invisalign Teen and Invisalign First.
How do I care for my aligners?
Caring for your aligners is easy, just brush them and rinse them with lukewarm water daily.
Can Invisalign be combined with other treatments?
Yes! Many patients choose to have other dental treatments done to compliment the results of Invisalign. Popular options include teeth whitening, dental bonding and veneers. These cosmetic dental treatments, including Invisalign, can be performed as part of smile makeover.
How to I maintain my Invisalign results?
As with braces and other orthodontic treatments, most doctors recommend wearing retainers to prevent teeth from gradually shifting after treatment with Invisalign.
What are my financing options?
5 Mile Smiles offers affordable and flexible financing with CareCredit. Our team can discuss CareCredit and your other payment options in detail with you during a personal consultation.
Schedule Your Invisalign Treatment
To learn more how Invisalign can straighten your teeth and transform your smile, schedule a consultation with Dr. Keefe. Contact 5 Mile Smiles in Spokane, WA today by calling (509) 326-2621 today.
Contact Us Today!
"I can't say enough how welcoming and warm this dentist office is. I have a very big fear of dentistry, ever since I was a child, but the staff at 5 Mile Smiles made me feel comfortable and safe. I highly recommend this office to anyone in search of a good dentist and staff who is knowledgeable and kind."
– Noelle Laffoon
"Dr Keefe and his staff is very friendly and efficient. They genuinely care about oral health and understand all sorts of situations."
– Gabriel Adams