Teeth Whitening in Spokane, WA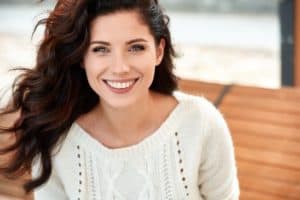 Teeth whitening is a simple yet highly effective way to restore the radiance and shine of almost any smile. Using professional-grade whitening agents, this treatment lifts noticeable stains and discoloration from the teeth for a whiter, brighter smile. In-office treatment can be completed in less than one hour and results are noticeable immediately. Dr. Jason Keefe of 5 Mile Smiles is pleased to offer both in-office teeth whitening and take-home whitening kits to North Spokane patients who want to revitalize their lackluster or dull smile.
When to Whiten Your Teeth
Here are a few indicators and scenarios that signify it's time to schedule an appointment for teeth whitening:
You have a big event coming up. Whether it's a wedding, graduation or family/school reunion, teeth whitening is a great way to put your best face forward at your upcoming event. The self-confidence emanating from your radiant smile will be noticeable in photographs and to everyone around you.
You're about to complete an orthodontic treatment. Teeth whitening is a great way to put the finishing touches on your newly straight smile.
You've quit smoking. If you're a former smoker, chances are that the unhealthy habit left an unsightly mark on your smile. Celebrate quitting smoking by whitening and rejuvenating your teeth. Your teeth whitening results will be undeniable, and serve as a motivator to not pick up smoking again.
You're tired of hiding your smile. Why spend a second longer feeling self-conscious of your smile? Teeth whitening is a quick and easy way to boost your self-confidence as results with in-office teeth whitening can be achieved in as little as one hour!
We are now Offering Zoom!® In-Office Teeth Whitening
The next generations in teeth whitening, call today to learn more about this option.
Can I Benefit from Teeth Whitening?
You may benefit from teeth whitening if you have tooth stains or discoloration due to any of the following:
Consumption of tea, coffee, red wine or dark-colored foods
Tobacco use
Poor oral hygiene
Genetic factors
Certain medications (e.g., tetracycline)
Tooth decay or disease
Aging
If Dr. Keefe determines you are a suitable candidate for teeth whitening, he will discuss the treatment details with you. He may recommend teeth whitening as a standalone procedure or as part of a smile makeover for even more transformative results.
Can Teeth Whitening Work on All Forms of Stains and Discoloration?
It's important to note that not all forms of stains and discoloration respond well to teeth whitening. Dr. Keefe will carefully evaluate your teeth to determine whether teeth whitening can produce the results you seek. Depending on the nature and cause of the stains and discoloration, the dentist may recommend an alternative treatment, such as porcelain veneers, which are thin pieces of tooth-colored porcelain slipped over the front surface of teeth to mask cosmetic flaws, including stains. Keep in mind that dental restorations, including fillings and crowns, will not respond to teeth whitening.
In-Office Teeth Whitening: Procedure Details
In-office teeth whitening takes approximately one hour to complete in our office. Treatment is supervised at all times by a member of our trained and experienced dental team. Prior to whitening your teeth, your lips and gums will be covered with a special guard. The bleaching agent will be applied to the teeth and activated with a blue light. The gel will remain on the teeth for approximately 15 minutes. At that time, the bleaching agent will be removed. The bleaching agent is re-applied and activated several times, until the desired shade of white is achieved. Results are instantaneous; expect your teeth to appear up to eight shades lighter!
Take-Home Whitening Kits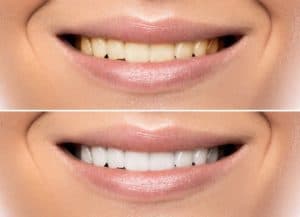 Are you on the go and prefer to whiten your teeth on your time? Or, do you wish to enhance the results of a previous in-office teeth whitening treatment? 5 Mile Smiles can provide you with a set of customized whitening trays so you can whiten your teeth at your convenience. Unlike whitening strips and trays available over the counter, customized whitening trays provided by our practice are molded to fit well over your mouth, preventing whitening gel from leaking and irritating the soft tissues of your mouth. If you have a big event coming up, like a wedding or graduation, take-home whitening kits may be the perfect solution to put an extra sparkle in your smile!
How to Ensure Long-Lasting Results
The results of teeth whitening can be long lasting, so long as you take certain steps to protect your smile. We recommend limiting dark-colored foods and beverages that can stain teeth. These include blueberries, soy sauce, dark chocolate, coffee and tea. Brush your teeth twice a day and floss them daily. It is also important to keep up with all your six-month dental checkups so your teeth can be examined and professionally cleaned regularly.
You can also "touch up" your lighter smile with customized take-home whitening trays provided by our team. Follow-up in-office teeth whitening treatments in the future are another option.
Teeth Whitening FAQs
How do I prepare for teeth whitening?
There is no special preparation needed for teeth whitening. Prior to treatment, your teeth will be cleaned thoroughly by a member of our team.
Is teeth whitening painful?
Teeth whitening is not painful. However, some patients do experience some tooth sensitivity during treatment. The advantage of in-office teeth whitening is that treatment is supervised at all times by a professional member of our team. We can adjust the strength of the whitening agent to ensure your comfort at all times.
Are there any risks associated with teeth whitening?
There are minimal risks with teeth whitening as long as your teeth are healthy and you are free of any major dental issues. As mentioned before, some tooth sensitivity is possible but can be minimized by adjusting the strength of the whitening agent used during treatment.
Should I combine teeth whitening with other cosmetic treatments?
The answer to this depends on your cosmetic dental needs and goals. If, in addition to stained or discolored teeth, you are bothered by small cracks, chips or gaps, we may recommend combining teeth whitening with other cosmetic treatments. This multi-step treatment, called a smile makeover, is highly common for patients who desire more transformative results.
Will I need follow-up treatments?
Follow-up treatments (either in-office or through take-home whitening trays) are not required but they are an option to maintain your lighter smile. How often you undergo follow-up treatments is completely up to you and how long your initial results last.
To learn more about teeth whitening with 5 Mile Smiles, please schedule a consultation. Contact our North Spokane dental practice by calling (509) 326-2621 today.
"Everyone was so friendly, the second I walked in they knew who I was and were all set up for me. Love the experience!"
– Josie Swanson
"I have had nothing but good experiences while coming here. Very nice staff and helpful I would recommend 5 mile smiles to anybody looking for a great dentist!!!"
– Jeremy Beck