Thanks to his expertise and friendly demeanor, Dr. Jason Keefe is one of Washington's most trusted doctors for general dentistry needs. He and the entire 5 Mile Smiles team are dedicated to keeping the teeth and gums of their Spokane-area patients of all ages in top shape so that they can have healthy, attractive smiles. Whether you are overdue on scheduling an appointment or have been on the hunt for a new dentist who you can feel comfortable with, Dr. Keefe is the best choice for your routine dental needs, including:
Professional Dental Cleaning
Your twice-yearly dental appointment includes a critical deep cleaning. Daily brushing and flossing are essential to maintaining your oral health, but they cannot accomplish as much as Dr. Keefe's professional tools can. At your appointment, Dr. Keefe and his hygienist can clear away plaque and tartar from places that brushing and flossing cannot reach. In addition to the health benefits of this cleaning, most patients leave with aesthetic improvements in the form of a whiter and more sparkling smile.
Dental Examination and X-Rays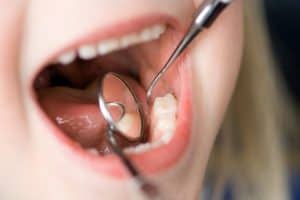 At this same appointment, Dr. Keefe will check your mouth to see if there are any problems inside your mouth such as cavities. Nearly every dental issue is more easily treated during its earliest stages, so regular checkups are critical. Use this opportunity to mention any sensitivity or pain you may have noticed on your own so that Dr. Keefe can keep a careful eye out for those potential problems.
Our office uses intraoral cameras and digital X-rays with Logicon software to better diagnose tooth decay and cavities. These state-of-the-art technologies allow patients to look at their own teeth on a 28-inch screen and are a pivotal part of finding small problems so that they can be addressed before they get worse.
Contact Us Today!
Teeth Fillings
While brushing and flossing are your best lines of defense against cavities, even the best brushers can occasionally get cavities. The good news is that fillings are an easy and effective way to tackle cavities and protect your teeth from decaying further. There is no need to worry about having shiny metal in your mouth — Dr. Keefe uses composite fillings that match the color of your existing teeth so they are easily hidden in your mouth.
Periodontal (Gum Disease) Treatment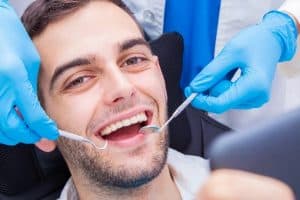 Your gums are an extremely important part of your oral health. Plaque buildup around the gumline can cause gingivitis, but the 5 Mile Smiles team can help you reverse the damage before it leads to periodontitis. For patients who need it, Dr. Keefe offers scaling and root planing, a treatment that carefully removes plaque from pockets in your gums as well as smooths out the roots of your teeth to shrink the space where bacteria can get caught.
General Dentistry FAQs
How Often Should I Change My Toothbrush?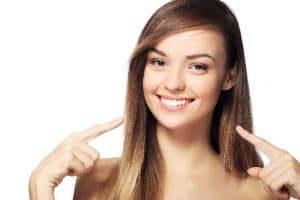 Toothbrushes are durable, but they are not intended to last forever. Dr. Keefe suggests using a new toothbrush every few months. This ensures that the bristles are still effective and do not accumulate bacteria. Rinse your toothbrush with hot water after each use to help kill bacteria. If you have gum disease, you should change brushes every month to further reduce the spread of bacteria.
What Is Fluoride?
Fluoride is a mineral that plays a vital role in protecting the health of your teeth. Specifically, it strengthens the outer layer of your teeth (the enamel) so that acidic foods and drinks you consume do not cause tooth decay. Although fluoride can be found naturally in water and food, the concentration is usually too insignificant to help your teeth. To help, 5 Mile Smiles provides fluoride treatments during your biannual cleanings. You can also select a toothpaste brand that includes fluoride for additional protection.
Are Dental X-Rays Safe?
Dental X-rays are very safe and utilize a low level of radiation that should not pose any problems. To further mitigate your exposure, Dr. Keefe and his staff provide patients with a lead apron to cover the torso. They also aim to keep the number of X-ray images taken to a minimum.
Do I Need Regular Cleanings and Examinations Even If I Am a Good Brusher?
While proper brushing and flossing is your best bet for avoiding more serious procedures like crowns, implants and bridges, even patients with good oral hygiene habits benefit greatly from biannual dental checkups. At 5 Mile Smiles, we have tools that allow us to provide a deeper clean than a toothbrush and toothpaste. These tools can also reach nooks and crannies in your mouth that you may not be able to reach with floss. The examination portion is equally as important since it allows Dr. Keefe to identify any problems before they get too serious.
What Happens When I Get a Cavity?
A cavity is tooth decay that progressively gets worse, creating a permanent hole in your tooth. Although no one likes having a cavity, it is easily treated, especially when caught early. Tooth colored fillings stop your tooth from decaying further and prevent bacteria from accumulating in the hole. If a cavity is left untreated for too long, you may need a root canal to resolve the problem, as well as a crown to reinforce the tooth.
How Can I Tell If I Have Gum Disease?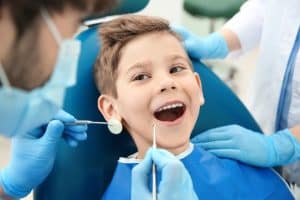 Gums that are tender, puffy, or bright red or purple in color may indicate gum disease. Bad breath and blood on your toothbrush are also signs of periodontal trouble. Schedule an appointment with Dr. Keefe if you notice any of these symptoms. Continue to brush and floss even if these symptoms arise, since practicing good oral hygiene helps to alleviate gum disease.
How Soon Should I Start Bringing My Child into the Dentist?
The American Academy of Pediatric Dentistry recommends that parents bring their children in for their first visit before their first birthday to check the health of their first teeth. Thereafter, you should bring your child in for appointments every six months — the same frequency recommended to adults.
Contact Dr. Keefe, your General Dentist
When selecting a general dentist, it makes sense to choose one who is capable of doing restorative and emergency dental work as well so that any problems that may turn up during your biannual examinations can be handled promptly. To book an appointment, call our Spokane office at (509) 326-2621 today.
Contact Us Today!
"I love that the people recognize me as I walk in and they do really good work!"
– Jade Reguba
"My first dentist visit after moving to Spokane and I chose the right one! Everyone was friendly and accommodating. I thought I'd miss my former dentist but 5 Mile Smile made the transition super easy.. I highly recommend them."
– DJL