Dental Veneers in Spokane, WA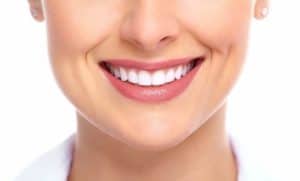 Your smile is one of the first things that others notice about you. So, naturally, any blemish or cosmetic flaw relating to your teeth can make you feel self-conscious or unwilling to smile. At 5 Mile Smiles, Dr. Jason Keefe and our friendly team pride ourselves on helping patients like you transform your smile and confidence with an array of cosmetic dental solutions, including porcelain veneers.
What Are Dental Veneers?
A veneer is a thin shell made out of porcelain or composite material, custom-fitted and cemented to the front of the tooth to conceal cracks, discolorations, gaps, or other minor imperfections. Veneers blend in with your surrounding teeth, providing the seamless, radiant smile you have always desired.
Types of Veneers
Porcelain veneers are made of a durable, high-quality ceramic that closely resembles the translucent quality of natural tooth enamel. Porcelain veneers typically cost more than other veneer options but they also offer the most long-lasting and natural-looking results.
Composite veneers are made of a composite resin material that is commonly used to create dental fillings and other dental restorations. These veneers are a cost-effective alternative to porcelain veneers; however, they may not last as long.
Minimal-prep veneers require minimal tooth preparation or no tooth preparation at all. They are a great option if you wish to preserve as much natural tooth structure as possible.
Dr. Keefe typically uses porcelain to create beautiful, long-lasting veneers. However, he can discuss all other options with you to determine the best choice for your unique case.
Am I Candidate For Veneers?
You may be an ideal candidate for porcelain veneers if you are bothered by one or more of the following:
Small chips or cracks on one or more teeth
Stains or discoloration, including those that do not respond to whitening or bleaching products
Small gaps between teeth
Worn tooth enamel
Unevenly sized or shaped teeth
What Should I Expect During My Veneer Consultation?
Candidacy for porcelain veneers is determined on a case-by-case basis. Dr. Keefe will carefully examine your teeth and mouth to check for any oral health problems. If an issue is detected (e.g., cavity, gum disease), it will need to be addressed prior to undergoing treatment with porcelain veneers.
After checking the status of your oral health, Dr. Keefe will ask you questions about your cosmetic goals. He will ask you to point out the things you do not like about your smile. Depending on your concerns, Dr. Keefe may recommend porcelain veneers as a standalone procedure or as part of a smile makeover. He will also use digital imaging tools that allow the both of you to "preview" the proposed results. This allows Dr. Keefe to tailor the treatment to your unique needs and goals, and also provides you with peace of mind on what results to expect.
How Are Dental Veneers Made?
Porcelain veneers are typically created and placed over the course of two dental appointments, spaced two weeks apart. During the first appointment, Dr. Keefe will prepare the tooth or teeth that will receive the veneers. This involves removing a small portion of tooth structure to accommodate the veneers. He will then take impressions of your teeth, which will be sent to a dental laboratory where your veneers will be made. A shade guide will also be used to select the shade that best blends in with your surrounding teeth. Temporary veneers will be placed over your teeth as you await your permanent veneers. Wearing temporary veneers not only protects the treated teeth, it also gives you an opportunity to "test out" the veneers. If you have any feedback on the look, fit and feel of the veneers, Dr. Keefe can take it into consideration when placing and fitting your permanent restoration.
How Are Veneers Placed?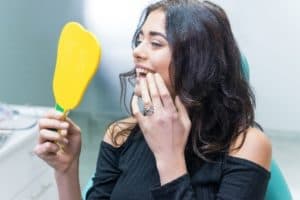 Upon completion of your permanent porcelain veneers, Dr. Keefe will remove the temporary veneers and thoroughly clean your teeth. A small amount of tooth enamel will be removed in order for the veneers to fit properly and allow for natural tooth function. Dr. Keefe will then place the veneers, and any last-minute modifications will be made. Once you are happy with the look and feel of your new teeth, Dr. Keefe will bond them into place with an adhesive layer and polish them for a seamless, radiant smile.
How Long Do Veneers Last?
With good oral hygiene and proper care, your porcelain veneers should last for many years. On average, veneers last 10 to 15 years.
Veneers do not require any special maintenance but they should be brushed, flossed and checked by a dentist twice a year. In addition, you should avoid biting or chewing on hard foods or objects to avoid chipping or cracking your veneers. Our team will be happy to provide you with additional tips on caring for your porcelain veneers during an appointment.
Dental Veneer FAQs
What is the different between veneers and dental crowns?
Both veneers and dental crowns can be used to improve the shape, size and appearance of unattractive teeth. The main difference is that a crown covers the entire exterior portion of a tooth, while a veneer only covers the front surface of a tooth. The best way to determine whether you need a crown or a veneer is to schedule a consultation with 5 Mile Smiles.
Is treatment painful?
Treatment is not painful. We use a local anesthetic to numb the treated areas, and make every effort to make your treatment as comfortable as possible.
What happens if my veneer slips off?
The likelihood of a veneer slipping off is very low as it is bonded to the treated tooth using a strong dental adhesive. If your veneer cracks, we can repair it to avoid further damage.
Will my veneers look and feel natural?
Yes! Your veneers will be custom-molded from an impression of your teeth. They will be specifically designed for the best possible fit on your tooth. Once they are in place, the veneers will feel exactly the same as your natural teeth. A shade guide will be used to find the color that best matches the rest of your teeth, for a natural-looking appearance.
What is the cost of veneers?
The cost of veneers depends on the material used and the number of teeth treated. Our team can provide you with an exact cost during an in-office appointment.
Learn More About Dental Veneers In Spokane
Why wait for your dream smile any longer? To learn more about porcelain veneers or the other cosmetic dental treatments we offer, schedule a consultation. Contact our North Spokane dental practice by calling (509) 326-2621 today.