Dental Crowns in Spokane, WA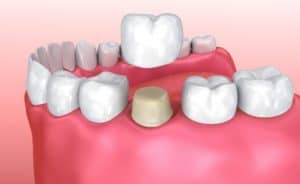 What Is A Dental Crown?
A dental crown is a tooth-shaped restoration that fits over a tooth like a "cap" and replaces its entire exterior. Made from high-quality dental materials, a dental crown is designed to restore the normal chewing function and appearance of a weakened or failing tooth. At 5 Mile Smiles, our dentist Dr. Jason Keefe has helped thousands of individuals regain a happy and healthy smile with an array of restorative dental treatments, including crowns. He would be happy to meet with you and discuss the advantages of dental crowns and how they can possibly help you obtain a resilient and confident smile.
CEREC Same-Day Crowns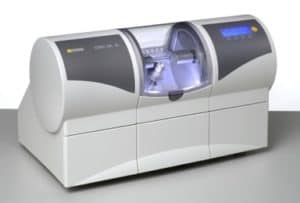 Same-day porcelain dental crowns are also available with the state-of-the-art CEREC system. CEREC allows Dr. Keefe to design, create and place beautiful, natural-looking crowns in a single dental appointment that takes less than two hours.
The first step is to use to digital imaging to capture the mouth's unique specifications. This information is used to design a well-fitted crown that will be milled from a block of porcelain in Dr. Keefe's office. Once the crown is ready (which should be within a few minutes), Dr. Keefe will place the crown.
CEREC eliminates the need for temporary crowns or multiple dental appointments. The technology makes it possible to obtain a permanent dental crown in just one visit with us. Often root canals can be completed in the same appointment, saving valuable time.
Am I A Candidate For A Dental Crown?
Dr. Keefe may recommend a dental crown to:
Repair a tooth affected by a cavity that is too large to be properly treated with a dental filling, inlay or onlay
Strengthen a fractured, weakened or damaged tooth
Cover a dental implant post that is replacing a missing tooth
Cover a tooth after a root canal
Anchor a dental bridge
Conceal an abnormally shaped or sized tooth
The first step in determining whether you need a dental crown is to meet with our dentist for a comprehensive dental exam. Dr. Keefe will evaluate the health of your teeth using X-rays, intraoral cameras and other diagnostic tools. Using the information gathered, he will determine the number and placement of crowns you need. Dental crowns can be made using metal, porcelain-fused-to-metal, all-porcelain or other materials. Dr. Keefe will discuss the advantages and disadvantages of each and make recommendations based on your unique case.
Dental Crown Treatment/ Placement Details
Traditional dental crowns are typically planned, created and placed over the course of two dental appointments. In the first appointment, we will prepare the tooth or teeth by removing any damaged or decayed tooth structure. Impressions of your teeth will be made and sent to the dental laboratory where your permanent restoration will be made. In the case of porcelain crowns, a shade guide will be used to select the shade of porcelain that best matches your natural tooth enamel. A temporary restoration may be placed to protect the affected tooth while the permanent restoration is being created.
Once your crown is ready, you will return to our office (typically two weeks after your first appointment). Dr. Keefe will remove the temporary crown and place the permanent one. He will check your bite and make any last-minute adjustments to the crown as needed. Once you are satisfied with the look, feel and fit of the crown, the dentist will bond it into place. He will buff and polish the crown to give it a radiant shine.
Caring for Your Dental Crown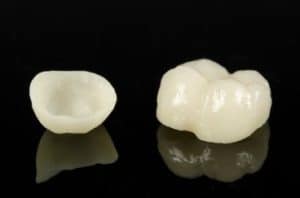 With proper care and attention, your dental crown can last for many years. Brush and floss the crown as you do your natural teeth, and visit Dr. Keefe for routine exams and professional cleanings every six months. In addition, we recommend you avoid biting down on hard objects (e.g., ice, bottle caps, nut shells) that can potentially crack the crown. Teeth grinding and clenching should also be avoided. Our 5 Mile Smiles team will happily share more tips on how to care for your crown and teeth during your appointment with us.
Dental Crowns Frequently Asked Questions
Are dental crowns permanent? How long do they last?
Crowns are a long-term solution and can restore your ability to chew, bite and smile confidently for anywhere from five to 15 years. The more careful you are with cleaning your crown and getting it checked by Dr. Keefe, the longer it will last.
Are there options to finance my crown?
Yes. 5 Mile Smiles offers flexible financing plans through companies like CareCredit. With CareCredit, you can pay for your crown in monthly installments. You may even qualify for a plan with little or no interest or no down payment.
Our office also accepts cash, check and major credit cards, and we are contracted with numerous insurance companies. Many insurance companies cover at least part of the cost of a traditional crown.
What problems can develop with my dental crown?
Temporary sensitivity to heat or cold: Your crowned tooth may feel sensitive immediately after treatment, particularly if the tooth still has a nerve in it. Brushing with a toothpaste for sensitive teeth can help alleviate some of the sensitivity. If the sensitivity persists past a few days, or if it develops into pain when you bite down, let Dr. Keefe know so you can find another solution.
Dark line next to the gum line: If you opt for a porcelain-fused-to-metal crown, a dark line may appear next to the gum line where the metal part of the crown shows through.
Chipped crown: The porcelain that is used to construct many of today's dental crowns is very strong, but sometimes it can chip. Small chips may be repaired with the application of a composite resin material. More extensive chips may require replacing the crown altogether.
Loose crown: The cement that bonds the crown to the tooth may wear away, and as a result, the crown may become loose. A loose crown is important to address with Dr. Keefe because bacteria can get under the crown and cause the natural tooth to decay.
Crown that falls off: A crown may fall off due to cement wearing away, a poor fit or decay of the underlying tooth. If a crown falls off your tooth, carefully clean both the crown and your natural tooth. Keep the crown and contact Dr. Keefe for an appointment. He might be able to bond the existing crown to the tooth or replace it with a new crown.
How do I prepare for dental crown treatment?
You do not need to do anything special to prepare for dental crown treatment. Expect to undergo a complete dental exam prior to crown placement; during this appointment, you will be asked about your medical history and any medications you currently take. You might want to prepare a list of questions to ask Dr. Keefe about the procedure and how to properly care for your crown, so you have the information you need to feel comfortable and confident.
Learn More About Dental Crowns
To learn more about dental crowns or the other restorative dental options we offer, please schedule a consultation. Contact 5 Mile Smiles by calling (509) 326-2621 today.