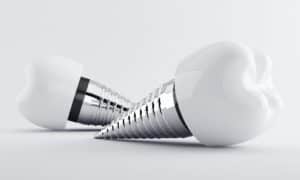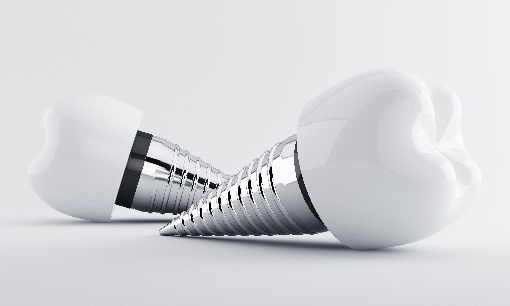 If you are missing one or more teeth, you have several options for restoring a healthy and complete smile. Dental implants are considered by many dentists to be the longest-lasting solution because they replace a tooth from its crown to its root. Consisting of a titanium post or screw inserted into the jaw and a natural-looking artificial tooth, dental implants can help restore your ability to chew, speak and smile again.
Successful treatment with dental implants requires the training and skill of an experienced dentist. At 5 Mile Smiles in Spokane, WA, Dr. Jason Keefe has used dental implants to recreate smiles that are both functional and natural-looking. Utilizing the most advanced technologies and materials available in implant dentistry, Dr. Keefe can help you enjoy all of the health, functional and cosmetic benefits that come with a full set of teeth.
The Benefits of Dental Implants
Dental implants can be used to replace one, several or a full arch of missing teeth. A dental implant post can be used to support a dental crown, bridge or a set of dentures. Because the post is surgically inserted into the jawbone, the replacement tooth or teeth will not shift or loosen (a concern with conventional dentures), so you can eat and speak with confidence. Dental implants also keep the jawbone stimulated and prevent it from deteriorating. This is important to prevent certain oral health problems from occurring or the facial structures from collapsing.
As mentioned before, dental implants are just one option for replacing missing teeth. Dr. Keefe can explain all of the options 5 Mile Smiles offers in detail after evaluating your oral health and dental needs.
About the Dental Implant Placement Process
The placement and restoration of dental implants is a multi-step process. First, Dr. Keefe will carefully examine your mouth to determine the number and location of implants needed. He will take precise measurements and create impressions of your teeth to send them to the dental laboratory that will craft your implants.
Next, he will insert the post or posts into the jawbone via a surgical procedure. A small incision will be made in the gum tissue to secure the implant post to the jawbone. In order to ensure a secure and stable foundation for the replacement tooth or teeth, the post or posts will need to fuse with the jawbone. This process, called osseointegration, can take three to six months to complete. Dr. Keefe may place temporary dental restorations so you can eat, speak and chew as normal while you wait for your gums and implant to heal.
Once the implant post and bone have fused properly, Dr. Keefe will attach your custom-made replacement tooth or teeth. Crafted to match your unique specifications, your artificial teeth will look completely natural. Dr. Keefe will check your bite to ensure a perfect fit.
Virtual Implant Placement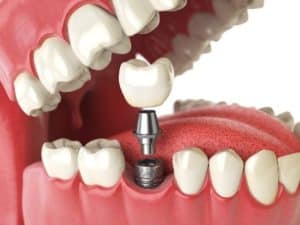 5 Mile Smiles now offers an advanced system that lets you restore your smile with dental implants, but without the surgery or wait time associated with traditional treatment. Virtual Implant Placement uses advanced computer imaging to capture your mouth's unique specifications. This information is used to plan the exact placement of replacement teeth. Your artificial tooth or teeth will be created and placed in a single appointment using the innovative CEREC system. Thanks to the precision of virtual implant placement, Dr. Keefe can place crowns, bridges and dental implants in a shorter and less invasive treatment than traditional implant surgery.
Candidacy for dentistry is determined on a case-by-case basis. Dr. Keefe will evaluate your mouth, dental needs and goals to determine the best course of treatment.
Learn More about Dental Implants in Spokane
To learn more about dental implants or the other restorative dental treatments 5 Mile Smiles offers, schedule a personal consultation. Contact our North Spokane dental office by calling (509) 326-2621 today.
"Excellent service every time I visit. Very kind staff, and more than accommodating."
– Marcus Camilius
"Everyone I have encountered here has been so nice and good at explaining exactly what was going to happen"
– Cameron Sower