Are Dental Implants Right For You?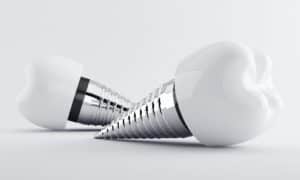 If you are missing one or more teeth, you have several options for restoring a healthy and complete smile. Dental implants are considered by many dentists to be the longest-lasting solution because they replace a tooth from its crown to its root. Consisting of a titanium post or screw inserted into the jaw and a natural-looking artificial tooth, dental implants can help restore your ability to chew, speak and smile again.
Successful treatment with dental implants requires the training and skill of an experienced dentist. At 5 Mile Smiles in Spokane, WA, Dr. Jason Keefe has used dental implants to recreate smiles that are both functional and natural-looking. Utilizing the most advanced technologies and materials available in implant dentistry, Dr. Keefe can help you enjoy all of the health, functional and cosmetic benefits that come with a full set of teeth.
Dental Implants Benefits
Dental implants can be used to replace one, several or a full arch of missing teeth. A dental implant post can be used to support a dental crown, bridge or a set of dentures. Because the post is surgically inserted into the jawbone, the replacement tooth or teeth will not shift or loosen (a concern with conventional dentures), so you can eat and speak with confidence. Dental implants also keep the jawbone stimulated and prevent it from deteriorating. This is important to prevent certain oral health problems from occurring or the facial structures from collapsing.
As mentioned before, dental implants are just one option for replacing missing teeth. Dr. Keefe can explain all of the options 5 Mile Smiles offers in detail after evaluating your oral health and dental needs.
Dental Implant Placement Process
The placement and restoration of dental implants is a multi-step process. First, Dr. Keefe will carefully examine your mouth to determine the number and location of implants needed. He will take precise measurements and create impressions of your teeth to send them to the dental laboratory that will craft your implants.
Next, he will insert the post or posts into the jawbone via a surgical procedure. A small incision will be made in the gum tissue to secure the implant post to the jawbone. In order to ensure a secure and stable foundation for the replacement tooth or teeth, the post or posts will need to fuse with the jawbone. This process, called osseointegration, can take three to six months to complete. Dr. Keefe may place temporary dental restorations so you can eat, speak and chew as normal while you wait for your gums and implant to heal.
Once the implant post and bone have fused properly, Dr. Keefe will attach your custom-made replacement tooth or teeth. Crafted to match your unique specifications, your artificial teeth will look completely natural. Dr. Keefe will check your bite to ensure a perfect fit.
Types of Dental Implants
Beyond the traditional dental implants, there are variations that you may want to consider and discuss with Dr. Keefe during a consultation:
Mini Implants
Although mini implants function like regular dental implants, they use a much smaller screw to connect to the jawbone, allowing the permanent artificial tooth to be added immediately rather than after months of healing.
All-on-4 Implants
All-on-4 is an advancement in dentures that connects your new set of artificial teeth on just four posts in your mouth.
Implant-Supported Dentures
Like all-on-4, these are dentures that connect to implants in your mouth (often six) for added sturdiness. They can click on and off of these implants for easy maintenance.
Teeth in a Day
This procedure is a newer technique that allows Dr. Keefe to replace an entire row of prosthetic teeth with a minimally invasive procedure that can be completed in a single appointment.
Implants are also useful in implant-supported combinations like with dental crowns, dental bridges and dentures.
Bone Grafting for Teeth Implants
Not every patient who needs a dental implant has sufficient bone tissue to support a dental implant. Ahead of getting a dental implant, Dr. Keefe may tell you that you require bone grafting. This procedure involves transplanting some of your bone from another part of your body and adding it to the jawbone where the implant is desired.
Bone grafting is used most commonly for people whose teeth have been missing for an extended period. Over time, the bone starts to atrophy without having a tooth to hold on to, which is a good reason to take care of a missing tooth sooner rather than later. Other conditions that may require a patient to have bone grafting include gum disease, a facial injury or a developmental deformity.
Following your bone grafting procedure, you will need to wait a matter of months (the exact time differs from patient to patient) for the transplanted bone tissue to properly fuse with your existing bone. Only then will Dr. Keefe be able to begin the dental implant process.
Dental Implant Recovery
Most patients will experience some pain and discomfort for roughly seven days after having their abutment screwed into the jawbone. Dr. Keefe will recommend medication to help manage any associated pain. During this first week, patients will also want to modify their diet to feature primarily soft foods to avoid aggravating their tender gums. It is likely that you will experience facial swelling, so applying an ice pack to the area for about half an hour at a time can ease the discomfort.
Cost of Dental Implants
The price of your dental implants will vary depending on the type of implants utilized and the number of implants needed. During a consultation, the team at 5 Mile Smiles will be able to provide you with a more complete cost for implants.
Our office accepts a long list of insurance plans to help cover the cost of dental implants. For those patients who would prefer to make payments toward their procedure, we also accept financing through CareCredit.
Virtual Implant Placement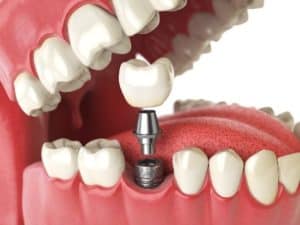 5 Mile Smiles now offers an advanced system that lets you restore your smile with dental implants, but without the surgery or wait time associated with traditional treatment. Virtual Implant Placement uses advanced computer imaging to capture your mouth's unique specifications. This information is used to plan the exact placement of replacement teeth. Your artificial tooth or teeth will be created and placed in a single appointment using the innovative CEREC system. Thanks to the precision of virtual implant placement, Dr. Keefe can place crowns, bridges and dental implants in a shorter and less invasive treatment than traditional implant surgery.
Candidacy for dentistry is determined on a case-by-case basis. Dr. Keefe will evaluate your mouth, dental needs and goals to determine the best course of treatment.
Dr. Jason Keefe of 5 Mile Smiles is devoted to offering patients the safest solutions to their dental care needs. He often recommends dental implants to patients that are struggling with the challenges of tooth loss. Read on as Dr. Keefe, who serves Spokane and the surrounding areas, answers some of the most frequently asked questions about dental implants.
Dental Implant FAQ
What is a dental implant?
A dental implant is a prosthetic that recreates the entire tooth structure, from root to crown. Implants are anchored by a titanium post that is implanted in the jawbone.
Who is a good candidate for a dental implant?
Dental implants are suitable for individuals that are missing one or more teeth. Ideally, candidates should be in good health and not smoke. Their jawbone should be strong enough to retain and support an implant post; however, in cases of weak jawbone, grafting may be performed to strengthen the bone in preparation of implant placement.
How many teeth can dental implants replace?
Dental implants can replace a single tooth, several teeth or all of the teeth in the mouth. A single implant post is used to anchor a dental crown, and multiple posts can anchor a dental bridge or denture-like appliance. Some patients that are missing all of their teeth elect to have implants placed below existing dentures to improve their fit and stabilization.
How do dental implants compare to other tooth replacements?
Because they are anchored in the jawbone, dental implants have unique advantages over other tooth replacements. Chewing on the implant post prevents the jaw from losing bone mass, and supports the facial muscles. Implants fit and feel just like natural teeth, and won't shift around in the mouth like some dentures can. They don't require frequent repair or replacement like other tooth replacements.
What is the process of getting a dental implant?
The dental implant placement process takes place in three stages.
The implant post is surgically implanted into the jawbone underneath the gap left by the missing tooth.
The post is left to heal for a period of approximately three to six months. During that time, a temporary artificial tooth can be placed over the top of the post.
Once the post has fused with the jawbone, the temporary tooth is removed and replaced with the permanent tooth.
Does getting a dental implant hurt?
The procedures to place and restore a dental implant should not cause pain or discomfort. The mouth is numbed and sedation dentistry techniques are available to minimize any discomfort.
How long can implants last?
A properly placed and well cared-for implant can last virtually indefinitely. Implants should be brushed and flossed like natural teeth and checked by a dentist every six months to a year.
Learn More About Dental Implants In Spokane, WA
To learn more about dental implants or the other restorative dental treatments 5 Mile Smiles offers, schedule a personal consultation. Contact our North Spokane dental office by calling (509) 326-2621 today.
Contact Us Today!
"Excellent service every time I visit. Very kind staff, and more than accommodating."
– Marcus Camilius
"Everyone I have encountered here has been so nice and good at explaining exactly what was going to happen"
– Cameron Sower