Emergency Dental Care in Spokane, WA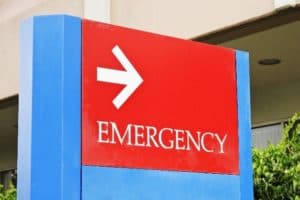 Emergencies can happen at any moment, and the trusted team at 5 Mile Smiles makes every effort possible to help and guide patients like you when one occurs. Led by Dr. Jason Keefe, 5 Mile Smiles is able to accommodate same-day emergency appointments and provide short-term relief and long-term solutions for unexpected injuries or other dental issues. Whether you have chipped a tooth or suffered a jaw injury due to a sports or automobile accident, you can count on the training, skill and experience of 5 Mile Smiles to remedy your pain and help you get on the road to a quick and safe recovery.
Dental Emergencies We Treat
Toothaches
Dental abscess
Knocked-out teeth
Broken teeth
Injuries to the gums, tongue, lips or cheeks
If you are unsure whether your symptoms qualify as a medical emergency, it is always best to err on the side of caution. Contact 5 Mile Smiles immediately so our dentist can diagnose the problem and determine the best course of treatment.
How to Deal with Common Dental Emergencies
If you find yourself faced with an unexpected dental injury or issue, the most important thing to do is contact our office immediately so you can see Dr. Keefe. But there are a few steps you can take while you wait to receive medical attention that can make all the difference in losing or saving a tooth.
Toothache
Severe and/or persistent toothache pain for several days is considered a dental emergency. Dr. Keefe can determine the source of your pain and a solution upon evaluating your symptoms. In the meantime, you can rinse out your mouth with warm water, and use dental floss to remove any food or debris stuck between the teeth. Do not put aspirin or topical pain medication on the teeth or gums.
Cracked Tooth Repair
If you crack or chip your tooth, immediately rinse your mouth out with warm water. If the crack is significant enough to cause bleeding, apply pressure to the area and then use a cold compress to reduce swelling. Schedule a same-day dental appointment with Dr Keefe as soon as possible.
Handling Knocked-Out Teeth
It is possible for a knocked-out tooth to be re-implanted. However, the tooth must be in good condition. If possible, try to reposition the tooth back in its socket and bite down to keep it in place as you await medical attention. Handle the tooth by its crown and avoid touching the root. If you cannot position the tooth correctly, place it in a glass of water or milk, or between your cheeks and gums.
Dental Abscess
An abscess is an infection that can occur around the root of the tooth and may cause swelling and/or pus. If left untreated, the infection can spread to the rest of the body. Contact your dentist immediately. In the meantime, you can rinse your mouth with a mild saltwater solution to temporarily alleviate pain.
Soft Tissue Injuries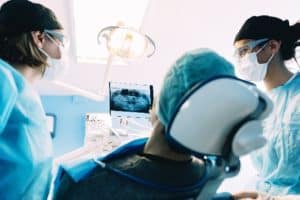 Any injuries on the lips, cheeks, tongue or gums, such as those caused by puncture wounds or lacerations, are considered to be a dental emergency. After you contact your dentist, you can try to rinse your mouth with a mild saltwater solution and place gauze on the site of bleeding. You can also place a cold compress on the outside of the mouth to alleviate pain and swelling.
Emergency Dentistry FAQs
Should I Wait to See If the Problem Goes Away on Its Own?
Very few dental problems resolve themselves without treatment. Your decision to wait it out usually just means enduring pain for longer before eventually conceding that you need dental work. It is smarter to have a qualified dentist examine your mouth to make an assessment on the proper course of action. Dr. Keefe can confirm if he believes the problem does not require treatment.
What Do I Do If an Injury Is Causing Bleeding?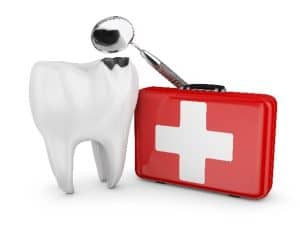 First, lightly apply pressure to the injury to help stop the bleeding. Next, contact 5 Mile Smiles to have the injury examined as soon as possible.
Should I Go to an Emergency Room for My Dental Emergency?
Most hospitals' emergency rooms are not staffed with professionals who know how to handle dental emergencies. Many patients who try an emergency room in the hope that they will be seen immediately find that they are referred to a dentist anyway. Certain situations like a fractured jaw or profuse bleeding in the mouth should be handled as quickly as possible (which may mean an emergency room), but if you have a problem that you know is best treated by a dentist, please reach out to Dr. Keefe first for a fast response.
How Can I Manage Oral Pain Prior to My Emergency Appointment?
Rinsing your mouth with warm (not hot) water can help to alleviate discomfort from sore teeth and gums. Placing an ice pack over the cheek dulls tooth pain, while a heating pad is suitable for jaw pain. Over-the-counter pain medication such as ibuprofen can also be useful, but avoid aspirin since it is acidic and can aggravate tooth pain.
What If I Am Not Sure My Dental Situation Qualifies as an Emergency?
5 Mile Smiles understands that non-medical professionals like yourself may be uncertain whether your dental problem rises to the level of being an "emergency." For the ongoing health of your mouth, it is best to err on the side of caution. Sometimes, Dr. Keefe can determine whether a situation warrants immediate attention after hearing about the problem from you on the phone. No matter the situation, Dr. Keefe cares about the well-being of his patients and wants to help you to feel better.
I Cracked My Tooth, But It Does Not Hurt — Can I Delay Treatment?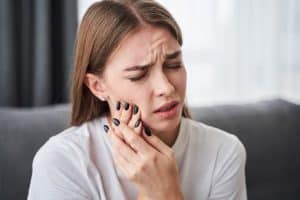 Many patients do not experience pain after cracking or chipping a tooth, but that does not make the injury any less of an emergency. Your tooth is weakened by a crack or chip (no matter how small) and is immediately in danger of decay. Prompt treatment is necessary to avoid more drastic dental procedures in the future.
Why Should I Choose Dr. Keefe for My Emergency Dentistry Needs?
After beginning his dental career in the United States Air Force, Dr. Keefe opened a practice in rural Kettle Falls, Washington. Being the only dentist in the area, he quickly discovered that he needed to provide emergency services like oral surgery and endodontics to his local patients. He continued to study emergency dentistry procedures to better serve his community. Over the course of his career, he has developed a strong skillset to treat the varied dental needs of his patients — emergency and otherwise.
If you experience a dental emergency or if you have persistent tooth-pain, contact 5 Mile Smiles immediately. Dr Jason Keefe will do everything in his power to get you in to the office for same-day dental care.
Contact Us Today!
"Always get me in quick if I have a dental emergency. Very friendly staff!!!!"
– Karen Clancy
"Great place! From the front desk ladies to the hygentists to the Dr, all caring people. They really take the time to attend to patients needs."
– Sarah Maxwell
"I'm generally terrified of dentists. I came in for an emergency situation, and Dr. Keefe was gentle and did everything he could to help make me comfortable. I'm so glad I chose this dentist, and I'll definitely come back for my dental care."
"Great friend staff. I haven't been to the dentist in a long time and needed a lot of work. They are non judgemental and super easy to work. My first appointment they had to do an emergency crown and they fit me in right away and stayed late to finish the job."