Orthodontics (Braces) in Spokane, WA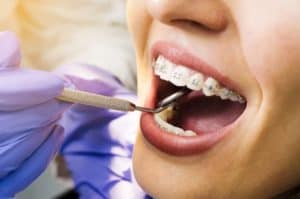 5 Mile Smiles is the dentist near you that will make your smile beautiful – even when you need braces or retainers! Orthodontics have come a long way since metal brackets and head gear. Even the most high profile patients can get a low profile treatment for a healthy beautiful smile.
There are many reasons to choose 5 Mile Smiles for your orthodontic care. Dr. Jason Keefe is extensively trained in prescribing both Invisalign and traditional braces, and has years of experience with both. In fact, he was one of the first providers in the country to offer Invisalign. Dr. Keefe is very knowledgeable about the concerns and needs of his patients. After learning more about your specific orthodontic needs, Dr. Keefe will help you find the right solution to help you achieve your goals quickly and comfortably.
Why Braces Are Important
A straighter smile has a number of benefits. If you have tooth spacing or alignment problems, braces, Invisalign®, or ClearCorrect are important for the following reasons:
Oral Health
Crowded, misaligned permanent teeth can be hard to clean, leading to cavities, root canals, gingivitis and gum disease. For a child, the right treatment will open up the growth plate and allow permanent teeth to grow in correct alignment. If you are experiencing alignment problems as an adult, orthodontics, especially Invisalign® or ClearCorrect, will help keep your smile healthy by straightening teeth, while allowing you to practice excellent oral hygiene and eat whatever you want.
Self-Confidence
Even if you haven't had problems with cavities or periodontitis, crooked teeth or an overbite can make it hard to smile in photos or around your friends. 5 Mile Smiles orthodontic treatment can make your smile beautiful, and help you face the world with confidence!
Prevention or Improvement of Temporomandibular Joint Disorder
Temporomandibular joint disorder, known as TMD, can make it painful to chew your food or even open your mouth to talk! Sometimes it's caused when your bite is misaligned, creating tension and soreness. A special appliance can help retrain your jaw muscle and reform your bite, relieving the pain and headaches.
Common Concerns Orthodontics Can Treat
Orthodontics can treat several types of tooth spacing and alignment concerns:
Tooth crowding
Crooked teeth
Gaps or abnormal spacing between the teeth
Occlusion problems that lead to the following:

Overbite – the upper teeth and jaw cover the lower teeth
Underbite – the lower teeth and jaw protrude over the upper teeth
Crossbite – one or more upper teeth sit behind the lower teeth
Braces For Kids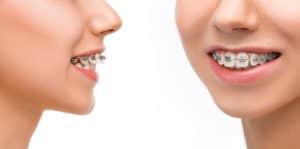 It's important to bring your child to the dentist early so we can keep an eye on how their teeth are coming in.
Phase I orthodontics may be recommended for primary teeth that are crowded or turned, or if there is a problem with the bite. This intervention will help permanent teeth grow properly thanks to modifications made during jaw development.
Phase II will be recommended after permanent teeth have already erupted in order to move adult teeth into a healthier alignment. Phase I usually shortens the length of Phase II ("conventional") treatment.
Braces help kids develop more attentive dental hygiene practices, and a healthier bite that can last them well into adulthood.
Ceramic Braces
Braces aren't only for kids! But as an adult, you may find the appearance of metal brackets undesirable. Ceramic braces offer the advantage of quick, inconspicuous treatment! It's like having conventional orthodontic treatment that blends in with your smile. Some people prefer this method when they have more complex bite problems that require a special level of detailed treatment.
Why Do Adults Need Braces?
Some adults have always had crooked or crowded teeth but never received orthodontic treatment as children to correct these problems. Other adult patients may have had braces as children, but experienced shifting later in life (possibly due to not wearing a retainer after completing orthodontic treatment, or from teeth wearing down over time).
The Benefits of Getting Braces As an Adult
A straighter, more attractive smile
The confidence to pursue new personal or professional opportunities
The ease of keeping straight, properly spaced teeth clean
Lower risk of tooth decay and gum disease
Lower risk of alignment issues contributing to problems such as TMJ disorder
Frequently Asked Questions About Braces
How long does braces treatment take?
How long your braces treatment takes depends on your specific orthodontic issue and the type of braces you have. Dr. Keefe can give you a more specific timeline during an in-person consultation.
How do I take care of my teeth while my braces are on?
Diligent at-home oral hygiene is crucial while wearing braces. You must brush your teeth and clean the brackets and wires of your braces every day. Flossing is also important, and special products are available for braces. Dr. Keefe will provide you with detailed instructions for keeping your teeth and braces clean.
Do braces hurt?
No, braces do not hurt. Some patients have mild, temporary discomfort or soreness after braces are placed and after the wires are adjusted.
What foods should I avoid with braces?
It's best to avoid foods that are sticky or chewy, like caramel, gummy bears or chewing gum, because they can easily get stuck in between the braces. The same goes for foods that are hard to bite into, like corn on the cob or a piece of tough meat. Also, you must avoid sugary foods like cookies and candy, which can contribute to tooth decay.
If I have braces, do I still need dental checkups every six months?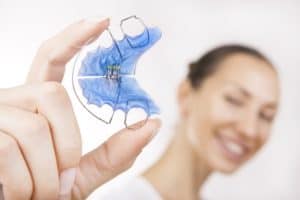 Yes, regular dental checkups are essential. In fact, you will probably need to see Dr. Keefe more frequently to ensure your teeth stay clean and healthy during treatment with braces.
Will I wear a retainer when my braces come off?
Retainers help to ensure that your teeth and bite do not shift out of alignment after your braces come off. Dr. Keefe can advise you of exactly how long to wear your retainer.
5 Mile Smiles can help you have a straighter, healthier, more beautiful smile. Call our North Spokane office today to schedule a consultation! We also offer Invisalign and ClearCorrect treatment.
Contact Us Today!
"Great experience! The staff are very nice and welcoming :))"
– Emily Lyman
"The staff is great and very friendly. Dr.Keefe is extremely competent and gentle when he works on his patients."
– Claire Snodgrass