Restorative dentistry is a combination of procedures designed to address any number of problems in a patient's mouth and restore his or her mouth to full functionality. As one of Spokane's finest restorative dentists, Dr. Jason Keefe is committed to helping his patients by relieving their pain, making aesthetic improvements to their smiles and enabling them to speak and eat normally again. Leaving dental issues untreated can put your whole mouth at risk for additional problems; so, for sake of the ongoing health and hygiene of your mouth, do not put off scheduling restorative dentistry procedures.
Restorative Dental Services Offered
Some of the restorative dentistry procedures that Dr. Keefe performs include:
Root Canal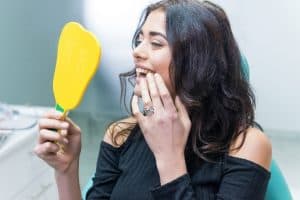 When your tooth is severely infected, Dr. Keefe can often save it from falling out of your mouth by performing a root canal. In this procedure, he rinses and removes the infected pulp at the center of the tooth before filling in the cavity so the infection cannot come back. Root canals can eliminate the pain you experience from an infection. Many patients will need a crown to support this tooth after a root canal.
Dental Crowns
A cracked, broken, damaged or misshapen tooth can be covered up with a dental crown, a ceramic or porcelain cap that fits over your existing tooth to reinforce it. A crown looks and acts like your natural tooth. Dental crowns are often used to strengthen a tooth weakened by root canal or to help support a dental implant or dental bridge.
Contact Us Today!
Dental Implants
Not only does having a missing tooth detract from the beauty of your smile, it can also impede your ability to chew and speak. Dr. Keefe often recommends dental implants to fill in unwanted gaps. An implant is a prosthetic tooth that is attached surgically to your jawbone. This artificial tooth is chosen to correspond with the size and color of your other teeth so it can fit in seamlessly with the rest of your smile.
Dental Bridges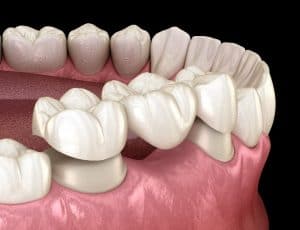 Another method for filling in holes left from a missing tooth or row of missing teeth is a dental bridge. Dr. Keefe provides three main types of dental bridges: conventional fixed bridges, cantilever bridges and Maryland (or resin-bonded) bridges. After examining your mouth, he will determine which approach will provide you with the best results.
Dentures
If you have many teeth that need replacement, dentures may be the smartest solution to restore your mouth. Thanks to advancements in dental materials and technology, today's dentures not only look but feel much more like real teeth than they did for past generations. Dr. Keefe specializes in implant-supported dentures, which clip into implants in your mouth. Implant-supported dentures are more secure in your mouth than traditional varieties, thereby allowing you to talk and eat without additional problems.
No matter what your specific restorative dentistry needs are, Dr. Keefe will expediently address them so that you may, once again, have healthy teeth and gums that are free of pain. To schedule an appointment, please call 5 Mile Smiles at (509) 326-2621 today.