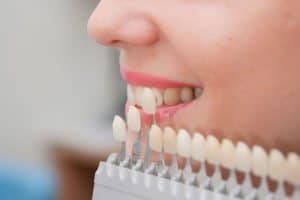 A veneer is a thin shell made out of porcelain or composite material. They are custom made and cemented to the front side of the tooth. A veneer can be used to treat dental conditions such as a slightly crooked tooth, discolored teeth, chipped teeth or they can even be used to cover spaces in between the teeth.
Porcelain laminate veneers consist of a compilation of several thin ceramic layers which replace original tooth enamel, and an adhesive layer. To apply a veneer, a very small amount of the original tooth enamel must be removed, usually less than a millimeter. This is essential as it creates room for the porcelain veneer to fit within the mouth and most accurately restore natural tooth function while creating an even better appearance than the original tooth.
A veneer can be made by the dentist or in a dental laboratory, depending on the materials used and the preference of the dentist. If you are interested in veneers call our office at 509-565-8810 for more information.